The Full Story

Kieran Lynn wins Nick Darke Award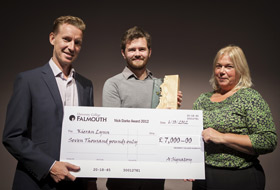 left to right: Professor Geoff Smith, Deputy Rector,
University College Falmouth; Kieran Lynn; Jane Darke

Kieran Lynn was announced the winner of the 2012 Nick Darke Award for his stage play Wild Fish. Writers entering this year were asked to submit work on an environmental theme in recognition of Darke's lifelong commitment to these issues.
In the play, Jakob Halvard the owner of a large commercial fishing company, after being shipwrecked in a storm, and spending 40 days lost in the middle of a great lake, decides to cease catching in order to let fish stocks on the lake recover. In doing so he becomes the enemy of Horsten Oswald, his ambitious and ruthless business manager, and a target of the local businessmen who rely on the fishing trade for livelihoods.
Lynn received £7000, which was £1000 more than expected following a gift from an anonymous donor. The money is to be used to complete the script before a performance at Falmouth in March 2013.
Commenting on his win, Lynn said: 'In my few years as a young writer I have found that it is very easy to get your plays read and reported on. I have found that it is easy to get involved in development workshops and rehearsed readings. I have found it easy to get involved in short play festivals and themed evenings. What it is not easy to do, and what may be the most crucial part of being a professional writer, is getting paid. The Nick Darke Award will enable me to dedicate more of my time, more of my energy and more of myself to writing: and I will be grateful of the opportunity for the rest of my career'.
The shortlisted pieces were:
'Waterton's Wild Menagerie' by David Bottomley (stage play)
'Pins and Needles' by Tony Clare (screenplay)
'Bang Up' by Sarah Hehir (radio play)
'Stuff' by Fiona Mackie (radio play)
'All At Once I Saw A Crowd' by Andrea Montgomery (stage play)
'Fell' by Francis Turnly (screenplay)
'The Power' by Polly Wiseman (stage play)

Lynn's plays have been performed at the Hampstead Theatre, Liverpool Everyman, Dundee Rep Theatre, the Old Red Lion Theatre, the Arches Theatre, The Glasgow Citizens Theatre and the Theatre 503. His play Bunnies was the winner of a Peter Brook Empty Space Award, and will transfer to London's New Diorama Theatre later this month. His most recent play An Incident at the Border, was recently performed at the Finborough Theatre, London.

This year's judges for the award were: Jeremy Howe, Drama Commissioning Editor for Radio 4; Molly Dineen, television documentary director, cinematographer and producer; Roger Michell, theatre, television and film director; Sebastian Born, Associate Director (Literary) of the National Theatre London; Joe Penhall, playwright and screenwriter; and Peter Thomson, Emeritus Professor of Drama at the University of Exeter.

www.falmouth.ac.uk/nickdarkeaward

Headlines
»
New productions:
In This Place - Wed's & Sat's in Sept
»
'Spirit in the Air' measures the climate impacts of Edinburgh Festivals - exhibition, events, talks
2 - 22 August
»
Southbanquet at the South Bank, 31 August and 1 September
»
People Profit Planet at World Stage Design 2013
5 - 15 September
»
Our pick of the Edinburgh Festival Fringe
»
Edinburgh International Festival - 'Leaving Planet Earth'
»
Environmental Art Festival Scotland - 30 Aug - 2 Sept
headline acts: Cinema Sark, The Rise and Fall of the Grey Mare's Tail, Gimme Shelter, Glimpse
»
14 ways to look at Scotland: 14 arts projects for Year of Natural Scotland
»
Mayor's Thames Festival - 6 - 15 September
»
Exhibitions:
Aquatopia - 20 July-22 Sept
»
Conferences
»
Events
»
Seminars and talks
»
Workshops
»
TippingPoint starts crowd-sourced database of climate art
»
'Actipedia' - crowd-sourced database of activist art - goes online
»
CCANW moves to Innovation Centre at University of Exeter
»
'Oceans': Tania Kovats and Fruitmarket Gallery ask for bottles of sea water for 2014 exhibition
»
'On Ecology' edition of Performance Research published online
»
'Environmentalism' edition of Research in Drama Education published online
»
Kieran Lynn wins Nick Darke Award
»
Greening theatre news
»
The Man Who Planted Trees receives 2012 Award for Sustainable Production at the Edinburgh Fringe
»
New books:
The Oil Road
Dark Mountain 3
The Book of Barely Imagined Beings
Readings in Performance and Ecology
Beautiful Trouble. A Toolbox for Revolution
»
New Green Canterbury Tales: call for storytellers to make a pilgrimage
»
Creu Cymru partners with Julies' Bicycle to support sustainability of 42 Welsh venues
»
Julie's Bicycle and The Theatres Trust publish 'Energising Culture'
»
'Culture and Climate Change: Recordings' available as a book, as an online pdf and as podcasts
»
Arts Council England embeds environmental sustainability into funding agreements
»
$750,000 (£470,000) funding for US musical about climate change - reviews are in
»
Canadian Theatre Review focuses on 'Theatre in an Age of Eco-Crisis'
»
Sustainable theatres:
Julie's Bicycle's theatre plan
Sustainable Abilities online
toolkit from Mo'olelo
EMERGENCE: creative practices and sustainable futures
new builds: Small World, Green Light Trust, Arcola
»
Listen, watch, read: podcasts, videos and essays
Latest additions:
> TJ Demos: on dOCUMENTA (13), gardens, biotech & on Art After Nature
> TippingPoint Newcastle
> Wendell Berry: 'It All Turns on Affection'
> David Abram at Sensory Worlds
»
Library:
'Survival of the Beautiful'
Mojisola Adebayo's collected plays
'Metaphors for Environmental Sustainabliity'
'Mediating Climate Change'
'Theatre Materials'
»
E-script online: 'The Last Cuckoo'
»
CSPA 2011 Fringe Awards for Sustainable Production:
2011- 'Allotment'
2010 - 'The Pantry Shelf'
»
Recent news and still interesting
Sideways through Belgium
Not Waving but Drowning (LIFT event)
Ackroyd & Harvey in conversation
Choreographing Capital (Isaac Julien & David Harvey)
PSi#18 - a lot of ecology
and more ...
»
Recent productions, including:
My Last Car, As the World Tipped, SEVEN ANGLES, Fissure, The Heretic, Greenland, Earthquakes in London, 3rd Ring Out, PROTOZOA, Grasses of a Thousand Colours, The Contingency Plan, Zameen, Moj of the Antarctic ...
»
Exhibitions archive