Dance group tracks migrating geese
---
Editors' note: Jennifer Monson is now Director for iLAND, Interdisciplinary Laboratory for Art Nature and Dance in New York.
---
Bird Brain Dance is a Navigational Dance Project by Jennifer Monson which crosses North and South America.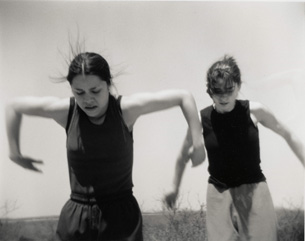 photo by Anja Hitzenberger

This a multi-faceted project that investigates the migratory patterns of birds and other animals and their relationships to humans. Dance performances are made in locales which track the migratory patterns of birds. These performances are accompanied by discussions with artists and scientists, dance workshops, a website that charts the migrating birds and dancers.

For the Ducks and Geese Migration of 2004, the dancers navigated north from Texas, along the Mississippi flyway, through Arkansas, Missouri, Iowa, Illinois and Minnesota. The first Bird Brain Dance tour in Spring 2001 followed the Grey Whale Migration up the Pacific west coast from Mexico, through California and onto Canada. In autumn 2002, the Osprey Migration travelled down the eastern American seaboard from Maine through Cuba to Venezuela.

The final migration will take place in autumn 2006 following the Northern Wheatears from the Arctic, through Europe to West Africa.

The project highlights the importance of sustaining and preserving habitat for migratory species and for deepening our dynamic relationship with nature through the medium of dance. Its fluid, travelling format aims to enable connections between diverse communities of artists, scientists, environmentalists, and students.

"I am fascinated by migration and the links it makes between continents and ecosystems, says Jennifer Monson. "The adaptability and flexibility of migrating and local birds allows them to function together in symbiotic, supportive coexistence. These small birds make contact with more parts of the earth than most of us could ever dream of."
---
published in 2005