In 2008, the Edinburgh Festival Fringe hosted more shows that connect with the environment, animals, climate change than any previous year. The diversity of shows was greater as well, with some using issues like oil, poverty, or last year's floods as a background for the action, while others take a more activist stance, or take an historical view, or stand back and see the comedy.

Some shows listed here are also listed independently on the Directory as they have runs beyond Edinburgh. Most were produced for the Fringe.

 
---
theatre | comedy | dance and physical theatre | children's shows
---
Adam Smith – Making Poverty History
artist or group: The Radicals
Was Adam Smith a brilliant economist and moral philosopher, or villian? This docu-drama brings Smith together David Hume, Benjamin Franklin and Robert Burns.
Editors' notes:The production doesn't claim to relate Smith's ideas directly to the environment, but we include it because of the effects of Smith's theories on global economies, poverty and environmental concerns.
Another Kind of Silence
FullCircle Productions
Hill Street Theatre
A story of love, the ocean, politics and birdsong. Liz Rothschild plays Rachel Carson, writer and ecologist, who came into sharp conflict with vested commercial and government interests in 1960s America.
See our feature on Another Kind of Silence here, and our Directory listing for the production here.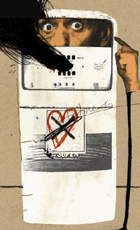 Black Stuff

Black Stuff
SHAMS
Pleasance Courtyard
The oil crisis is the backdrop as a Mexican honeymoon goes horribly wrong. Two newlyweds are stranded in the desert, with only an engimatic petrol attendant for company. As their situation grows more precarious, they discover how far they will go to defend their way of life, in this comic exploration of the rising costs of oil.

The Caravan
Look Left Look Right
Pleasance Courtyard
Last summer 48,000 UK homes were flooded. One year on, 2,200 households are still living in caravans. This documentary theatre piece, performed in a caravan, hears how people cope in a crisis.

Dad's Money
Boss Hogg
Pleasance Dome, Potterow
As Somerset floods, two brothers fight across their father's grave over their father's money in this comic drama written by Richard Marsh.

Global Warming is Gay
Off Message Theatre Company
C, Chambers Street
Will being drop-dead gorgeous help with the expense of saving the planet? This comedy about slow-starters getting the green bug is by Fringe First winner Iain Heggie.

The Kentucky Cycle
Pepperdine University Malibu
C, Chambers Street
Robert Schenkkan's plays tell the story of generations of an American family settling in the coal belt of Kentucky. In part 1 is the destruction of the Cherokee tribe and the Civil War. In part 2, the land is ripped by the coal-mining industry as the Industrial Revolution takes hold.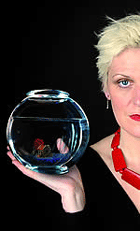 Heart and Sole
Kes (A Kestral for a Knave)
Beacon Theatre Group
Augustine's
Billy Casper has nothing until his discovery of a young kestrel.
The Last Yak
Pangolin's Teatime
Pleasance Dome, Potterow
Lucinda and Raymond find a wounded feral child. Outside in the jungle, bears and mango-ferrets plot in this fable of loss of innocence, blending Bunraku, shadow- and glove-puppetry.
Lynn Ferguson – Heart and Sole
Gilded Balloon Productions
Gilded Balloon
The return of Lynn Ferguson's solo play about a woman who falls in love with a fish, awarded the Stage Award for acting excellence.


On Human Folly

On Human Folly
Plain Quakers
Quaker Meeting House
Will plastic bag environmentalism save the planet? Can a Quaker gunmaker learn that greed germinates the seeds of war? This production asks whether John Woolman's radical stance on superfluous possessions is a lesson for today.

Out of Your Knowledge
Menagerie
Pleasance Courtyard
A journey inspired by the 19th century poet John Clare's feverish three-day walk from a lunatic asylum in Essex to his home 100 miles away. Playwright Steve Waters writes:
'Clare offers a prism through which the despised and abused landscape of the A1 corridor might be subject to re-evaluation. For most metropolitan audiences, simply to name Biggleswade or Buckden is to invite laughter – yet that reflex hides something that needs challenging, that is hollowing out life in so much of this country'.
Ruskin Live!
Paul O'Keefe
Scottish National Portrait Gallery
Paul O'Keefe recreates the lectures given in Edinburgh in 1853 by the art critic John Ruskin. The show may focus on architecture and art history, but we include it here because these can connect with Ruskin's ecological writings.
---
---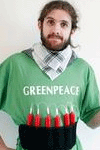 Eco-Friendly Jihad

Cheerio! The End of the World Show
artist or group: Dead Duck Productions
venue: Rocket @ Demarco Roxy Art House
editors' notes: The destruction of the planet is only one hour away. There's nothing left to do but relax and review the highs, the lows, and the in-betweens of life on Earth.

Eco-Friendly Jihad
Abie Philbin Bowman
Underbelly, 56 Cowgate
Desperate to reduce US carbon emissions, an environmentalist joins Al Qaeda. A comedy about the struggle to 'Think Globally, Act Locally', or, Al Qaeda meets Al Gore.

Mark Allen's Pet Project
Good Sense of Humour
Underbelly, 56 Cowgate
In the beginning, animals hunted humans. Then humans hunted animals. Now humans live with animals and talk to them. Mark Allen investigates what happened.

Nature's Revenge 2: The Revenge
Men With Bananas / PBH's Free Fringe
Nichol Edwards, Niddry Sreet
Men With Bananas return to the Fringe with more eco-horror clips, featuring homicidal leeches, ravenous beaches, marauding crabs, cuckolded tree trunks, and silly shark attacks.

Nina Conti – Evolution
Mick Perrin for Just for Laughs Live
Pleasance Courtyard
The world's first Homo erectus ventriloquist, and a talking monkey, explain evolution, including songs, jokes, and gratuitous nudity.
---
---
Augury and Entropy
artist or group: HerPic Performances
venue: C soco, Chambers Street and Cowgate
Editors' notes: A dance-theatre piece addressing displacement, home(land), climate change and endangered insects. Choreographer Hertz-Picciotto reflects on a visit to Israel, a looting expedition, family allegiances and Middle East chaos.
www.herpic.org

Dance Base Presents … Enclosure 44 – Humans
Janis Claxton Dance
Edinburgh Zoo
Performers inside an Edinburgh Zoo animal enclosure reveal an extraordinary display of behaviour and movement, exploring the animalistic nature within humans.

Jungalbook
The American High School Theatre Festival
Church Hill Theatre
An adaptation of Rudyard Kipling's The Jungle Book, set in a neglected area of the city. Urban blight is all around, and the various animals are now street gangs.

The Vanishing Point
Carpetbag Brigade
Sweet ECA, Edinburgh College of Art
Blending dance, physical theatre and stilt acrobatics, The Vanishing Point's physical poem evokes images of evolution, extinction and the subtleties of becoming human.
---
---
The Adventures of Ayada the Aardvark
artist or group: Eden College, Durban, South Africa
venue: Edinburgh College of Art
23 August only
Editors' notes: A show from South Africa about Ayada's journey of self-discovery. The production is for children and by children.
Aesop the Storyteller
Leon Conrad
Hill Street Theatre
With adventure stories, kings and talking animals the production combines storytelling with perfomance poetry.
The Bear Who Paints
Ribcaged Theatre Productions & Blue Penguin Productions
Pleasance Courtyard
In colourless world, the audience helps Bear survive with hope and colour, intertwining puppetry, comedy and live musicians, including a pianist on his head.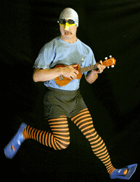 Cloudcuckooland

Cloudcuckooland
The Onassis Programme
Pleasance Courtyard
Our feathered friends battle to save the planet with bird poo in this comedy musical. The show is inspired by Aristophanes The Birds.

How Does the Kanga-Roo?
Rubber Duck Theatre
C, Chambers Street
Bruce thinks he's the loneliest creature in the Great Sandy Desert. Can he become the most famous animal among the koalas, kookaburras and crocodiles?

How the Giraffe Got Is Neck
Tall Stories
C too, St. Columba's by the Castle
Two intrepid explorers discover how the Elephant got his trunk and solve the mystery of the Giraffe's neck, in this evolutionary story from the company behind The Gruffalo.

Koko The Crocodile
Toto Tales
The Zoo
African folktales brought to life with songs and magical characters. Children can create their own artwork to take home.

Let the Earth Breathe
KeNoDeKe
Acoustic Music Centre @ St Brides
Using theatre and music, the show explores problems the Earth is facing and what we can do to help. The audience creates a song that is performed together as a finale.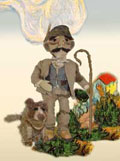 The Man Who Planted Trees

The Man Who Planted Trees
Puppet State Theatre Company
Scottish Storytelling Centre, The Netherbow
An adaptation of Jean Giono's story of a French shepherd and his dog who overcome obstacles to transform a barren wasteland into a rich woodland ecosystem by planting thousands of trees.
See our story on The Man who Planted Trees here, and our Directory listing for the production here.

Noah's Ark and Other Stories
Rhema Theatre Company
Saughtonhall United Reformed Church
A family-friendly trip through a fantastic adventure book.

Seed, Reeds & Tales of the Unexpected
Carol Ann Duffy & John Sampson
Royal Botanic Garden Edinburgh
A session featuring new poems for all the family from children's author Carol Ann Duffy punctuated by historic and contemporary wind music played by John Sampson. The RBGE's Festival programme also includes exhibitions, and an outdoor performance of Shakespeare's Romeo and Juliet by the Globe Theatre.

Tales from an Enchanted Forest
Scottish Storytelling Centre storytellers
The Netherbow
In the Netherbow Theatre's forest glade, storytellers weave tales from Scotland and beyond.

Whooooo's Afraid of the Big Bad Wolf?
Act II
The Space @ Jury's Inn
An insight into the misunderstood life of the Big Bad Wolf who appears in many best-loved fairy tales.
---